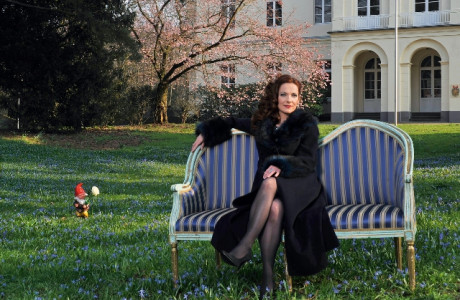 Further Dates And Events
Opernhaus Düsseldorf
June 2013
July 2013
Duration: abt. 3 hours, one interval
Eine florentinische Tragödie
Alexander Zemlinsky
Ein Mann kehrt von seiner Arbeit zurück und überrascht seine Frau mit einem Liebhaber. Das führt nicht selten zu Mord und Totschlag. So auch in dem Einakter "Eine florentinische Tragödie" von Alexander Zemlinsky (1871-1942). Doch die nach Oscar Wildes gleichnamigen Schauspiel entstanden Eifersuchtstragödie bezieht ihre eigentliche Dramatik aus der unerwartete Raffinesse, womit der betrogene Ehemann seinen ihm weit überlegen scheinenden Nebenbuhler in die tödliche Falle lockt.
Die junge, zum Ensemble der Deutschen Oper gehörende Regisseurin Barbara Klimo inszeniert Zemlinskys "Florentinische Tragödie" aus der Perspektive der dritten Betroffenen. Bianca, die Frau des Kaufmanns Simone, erlebt ihre Affäre mit dem Prinzen Bardi, aus der sich die Tragödie ergibt, wie einen Traum, in dem sie sich selbst und ihre unterdrückten Wünsche und Sehnsüchte erlebt.
***
Eine florentinische Tragödie (A Florentine Tragedy)
----
Opera in one act
Text by the composer after Oscar Wilde
Musikalische Leitung
Jonathan Darlington
Inszenierung
Barbara Klimo
Bühne
Veronika Stemberger
Kostüme
Frank Bloching
Licht
Volker Weinhart
Dramaturgie
Hella Bartnig
Guido Bardi
Corby Welch
Simone
Anooshah Golesorkhi
Bianca
Janja Vuletic
Der Zwerg
Alexander Zemlinsky
The one-act opera "Der Zwerg" by Alexander Zemlinsky (1871–1942) is based on Oscar Wilde's story "The Birthday of the Infanta" and has often been deemed an echo of the composer's relationship to Alma Schindler, later Gustav Mahler's wife. Alma Schindler was taught composition by Zemlinsky, admired his music and his intellect and was fascinated by his erotic appeal, although he was a little man whom she could hardly find handsome and whom she was later to term an "ugly gnome". "Der Zwerg" however also mirrors Zemlinsky's own fate, in that despite respect for his work nobody really accepted him as a great man. As he had Jewish blood, Zemlinsky suffered rejection and ostracism at the coming to power of the Nazis. "I surely lacked that special something which one needs in order to come out right in front", he confessed in a letter to Alma Mahler as early as 1925. Even in exile in New York, where he died in 1942, that hardly changed.
After establishing himself successfully at Deutsche Oper am Rhein with stagings of a series of Benjamin Britten's operas, Immo Karaman has again turned to a work dealing with an outsider and an underdog in "Der Zwerg". As a pendant to this the young stage-director Barbara Klimo, a member of the company of Deutsche Oper am Rhein, is to direct Zemlinsky's "Florentine Tragedy", a bizarre triangle drama in which a merchant kills his wife's lover and thereby regains her love and admiration.
***
Der Zwerg (The Dwarf)
----
Tragic musical legend in one act
Text by Georg C. Klaren after Oscar Wilde
Musikalische Leitung
Jonathan Darlington
Inszenierung
Immo Karaman
Bühne und Kostüme
Nicola Reichert
Licht
Volker Weinhart
Chorleitung
Christoph Kurig
Dramaturgie
Hella Bartnig
Donna Clara
Sylvia Hamvasi
Ghita
Anke Krabbe
Der Zwerg
Raymond Very
Don Estoban
Stefan Heidemann
1. Zofe
Elisabeth Selle
2. Zofe
Alma Sadé
3. Zofe
Iryna Vakula
Erste Freundin
Jessica Stavros
Zweite Freundin
Luiza Fatyol
Chor
Chor der Deutschen Oper am Rhein
Orchester
Düsseldorfer Symphoniker